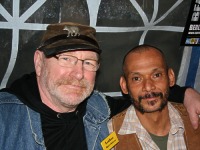 Founders and History
The Spreebären were founded in April 1999 by Lothar and Dennis (left picture) and two other friends. They intended to have a bear community in the scene of Berlin where the bears stick together.
Right from the start the weekly meeting (bar night) was held, in the first year at the bar "PrinzKnecht". Later our home den bars were "Wieso nicht bei Pierre" (2000 to 2001), "Oldtimer" (2002), "Mario's Kneipe" (2003 to 2010), "MAXXX" (2010 until the bar was closed in March 2012) and "Der neue Oldtimer" (June 2012 to 2015).
In 2016 the Spreebären met at the bar "Prinzknecht".
Since 2017 the meeting is held at the bar "Der neue Oldtimer" (in the warmer months) or at the bar "Prinzknecht". The location is changed in April and in October.
In September 2001 the Spreebären organized their first bear meeting "Bearversions". In the years 2002 to 2010 we invited to our bear meeting "BEAROPOLIS" in September. From 2005 to 2012 we presented our bear meeting "BEARVERSIONS" at Easter.